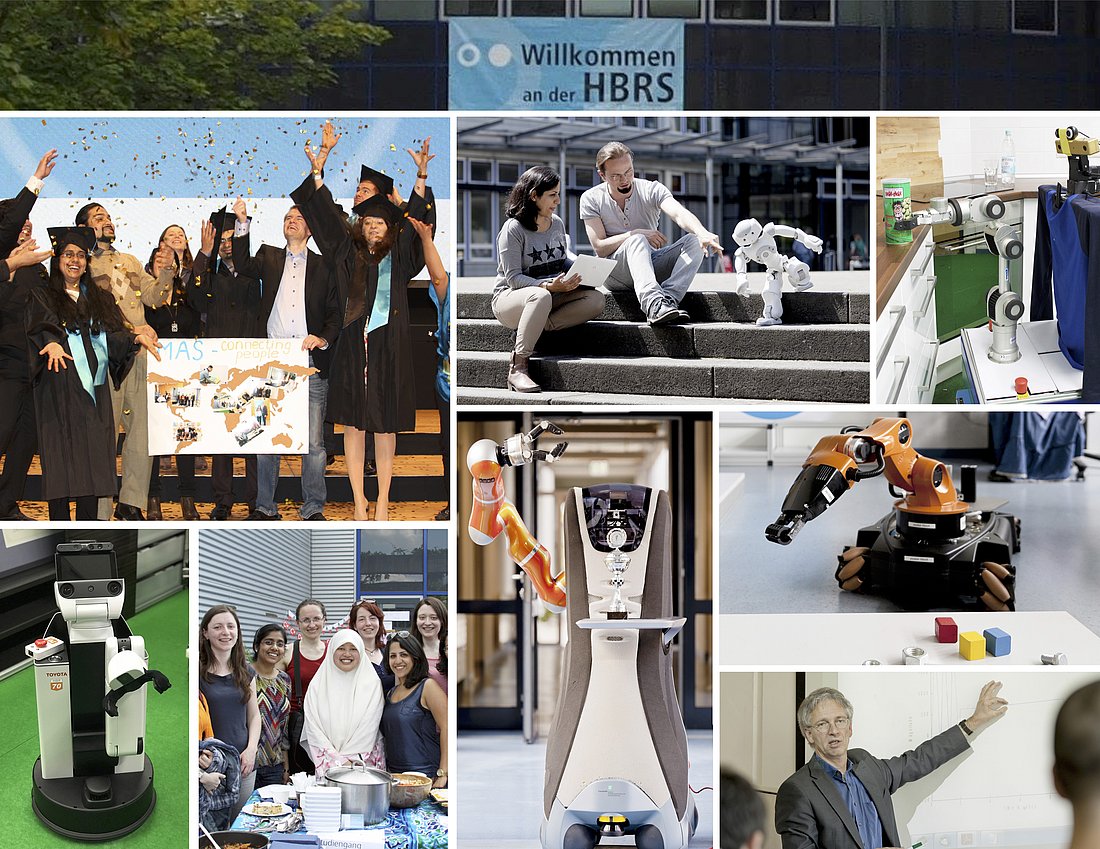 Autonomy, adaptability and network integration are characteristic features of complex IT systems. Conventional control systems and architectures are no longer adequate to realize the potential of these technologies completely, nor are they sufficient to master the complexity of such systems. The solution is to design selected components as 'autonomous systems' which can act mainly on themselves without external control most of the time.
In this context, autonomous mobile and biomimetic robots form the forefront of development. The international program 'Autonomous Systems' offers multi-faceted training in the fields of artificial intelligence and robotics, spanning a whole range of issues involved in the field. The four-semester program aims to challenge talented, motivated and dedicated students, and involves course work as well as project work.
A large portion of the program, including the preparation of the master's thesis, involves research and development projects. The project work portion takes the form of an 8-month R&D project and a final thesis project. The program's affiliation with the Fraunhofer Institute, one of the leading research institutes in Germany and the largest organization for applied sciences in Europe, provides an unparalleled opportunity for students to pursue extensive practical training in projects at the cutting edge of the field. These projects may also be carried out in a number of other broader research efforts at the university. This helps to ensure a high-quality education in the field, and also offers problem-oriented training in soft skills such as project management and presentation.
Presentations by leading international guest speakers are scheduled regularly and help to further expose the students to the state of the art in a wide variety of robotics-related fields. The number of seats per semester is limited to only 25 candidates, thus ensuring the admitted students a high quality education. An extraordinary level of commitment, pro-activeness, self-discipline and the ability to work well under pressure is expected of candidates.
The program is fully accredited by ASIIN, the German accreditation agency for study programs in engineering, informatics, and natural sciences. ASIIN is a member of the Washington Accord for the international recognition of accredited degree programs and, as such, the program's accreditation is recognized worldwide. The Master's program in Autonomous Systems is offered by the Applied Sciences Institute at the Bonn-Aachen International Centre for Information Technology (B-IT) which is based on cooperation between two renowned German centers of excellence: the Fraunhofer Institute for Intelligent Analysis and Information Systems (IAIS) and the Department of Computer Science of the Bonn-Rhein-Sieg University of Applied Sciences (H-BRS).
MAS Course Structure
The academic year is divided into two semesters. The program covers four semesters (two years) in which a total of 120 ECTS (European Credit Transfer System) points are accumulated. Individual mentoring characterizes the program, where students are guided through independent scientific work and through interdisciplinary cooperation in research and development projects.
The first semester consists of various compulsory courses and a seminar in scientific working. Students are introduced to several fields of robotics. They can then choose areas of interest where they want to acquire advanced skills and knowledge.
The second and third semesters contain taught courses as well as research and development projects which each account for 15 ECTS credits per semester. The projects are concluded by a written report plus an oral presentation. Another 15 ECTS points will be gained by exams at the end of each lecture period.
Examinations and proof of academic achievement take place during the studies. Examinations may be conducted in German or English, at the student's request. It is important to stress that other than public holidays, there are no "semester breaks", but rather lecture-free time, where students are expected to work full-time on their R&D project work. An extraordinary level of commitment, pro-activeness, self-discipline and the ability to work well under pressure is expected of candidates.
Lectures and Seminars (Overview)
(Please also see the current curriculum for more details on all modules.)
Compulsory Courses
Advanced Software Technology
Autonomous Mobile Robots
Mathematics for Robotics and Control
Artificial Intelligence
Seminars
These courses help the students to successfully carry out the R&D project and colloquium.
Introduction to Scientific Working
Advanced Scientific Working
Research & Development Colloquium
Lab Classes
These classes provide students with valuable skills to help with their research work.
Scientific Experimentation and Evaluation
Software Development Project
Examples of Electives
Adaptive Signal Processing
Advanced Mathematics for Robotics
Evolutionary Computation Theory and Application
Fault Detection and Diagnosis
Learning and Adaptivity
Mobile Manipulation
Multiagent and Agent Systems
Neural Networks
Planning and Scheduling
Probabilistic Reasoning
Robot Manipulation
Examples of Elective Consecutive Courses
Computer Vision
Nonlinear Control
Robot Perception
Robust Control
Additionally, one R&D project should be completed.
Finally, a master's thesis project and colloquium complete the programme.
Study Abroad
Study abroad is possible and encouraged.
Career Opportunities
Our alumni can be found in companies, universities as well as research institutes world-wide. There employers have included the following:
Ableton
Aeolus Robotics, Inc.
Amazon
anessa
ANYbotics
ASIMOV Robotics
Banksoft
BitTwister Informationstechnik GmbH
BMW
Bosch
Boston Consulting Group
Boston Dynamics
Cerence Inc.
CHRONEXT
cyber:con GmbH
DEUTA-WERKE GmbH
Delphi, Wuppertal
Elektrobit
ETAS GmbH
Exciera Technologies
Expleo Germany GmbH, Cologne
Extor GmbH
Faro GmbH, Stuttgart
Fetch Robotics
Gade Autonomous Systems Private Limited
Google/Alphabet
GPS
IBM
Informatica
Ingen Robotics
inmation Software
Intrinsic (an Alphabet company)
KBR/NASA
KELO Robotics GmbH
Kuka Robotics
LMX
Locomotec GmbH
Lucid Motors
M-Files Corporation
M2P Consulting
Magazino
MeasX
MHP Management- und IT-Beratung GmbH
NavInfo Europe
Neobotix GmbH
Next Kraftwerke GmbH, Köln
NTT Data
Nuance Communications
RabbitAI, Heidelberg
Rapyuta Robotics
RBOT
Recogizer
Rethink Robotics GmbH
Rfrnz Gmbh
Robert Bosch GmbH
RoBoTec PTC GmbH
Robots Alive Consulting
Shadow Robot Company
Siemens
Systemantics India
TBA Group
The MathWorks
TomTom
Trivago, Düsseldorf
VMware
xIndustry AI
Hochschule Bonn-Rhein-Sieg
* Institute for Artificial Intelligence and Autonomous Systems
* Graduate Institute
* Institut für Sicherheitsforschung
Fraunhofer IAIS
Fraunhofer FKIE
Fraunhofer SCAI
Osnabrück University
KU Leuven
RWTH Aachen
University of Bonn
DFKI
FAST-NUCES
DLR, Oberpfaffenhofen
TUBITAK-UZAY Space Technologies Research Institute
University Jaume I
Heriot-Watt University
University of Hertfordshire
Instituto Superior Técnico (IST) - Universidade de Lisboa
Norwegian University of Life Sciences
University of Western Australia, Perth
TU Wien
Örebro University, Sweden
LAAS-CNRS, Toulouse
Universidad Anáhuac Mayab in Mérida
Rhine-Waal University of Applied Sciences
Freie Universität Berlin
Jacobs University
University of Bielefeld
TU Delft
National University of Computer and Emerging Sciences, Pakistan
University of Groningen